AES Single Use Chromatography System
Flexible system to meet your needs
The AES chromatography skid is available as a stand-alone unit or integrated into a Distributed Control System (DCS). It provides a single-use flowpath utilizing state-of-the-art single-use sensors.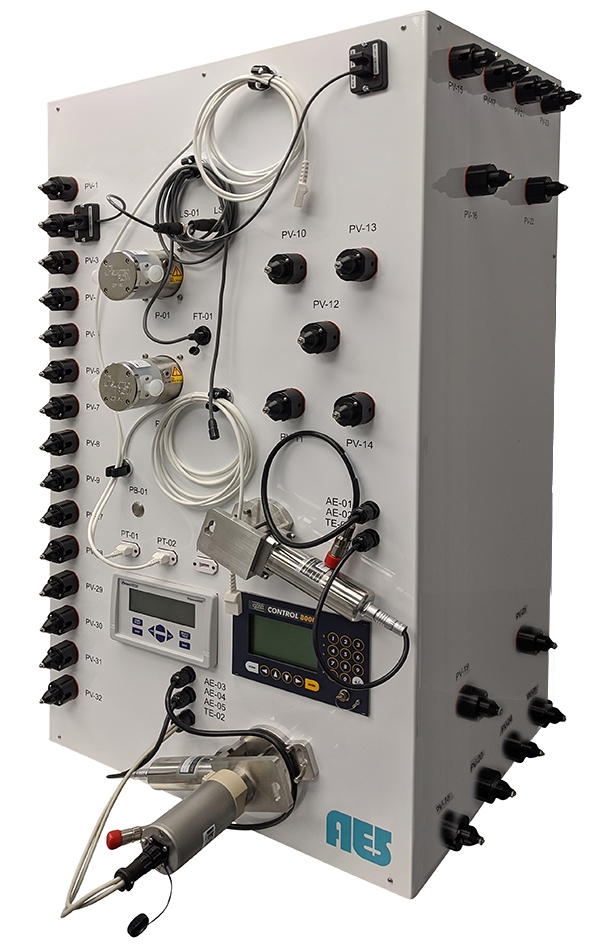 System features & benefits
Low shear pumps (Levitronix® or Quattroflow™) minimize potential shearing on product
Performs pre and post column pH, conductivity, temperature and pressure measurements
Calculates differential pressure across both filters and column
Post column optical density readings with up
to 2 different wavelengths
Three flow control modes: single buffer, inline dilution (5:1), and gradient
Quickly adjust parameters and repeat steps
for process testing
Finalize parameters and perform end-to-end
run in a repeatable and reliable method
Trending and historization of all I/O
Alarms and Holding available for all analog inputs (pH, Condo, Temp, OD, Pressure, Flow)
Overview
Tech Specs
Literature
Customize to meet your needs
The AES chromatography system features three flow control modes. It is fast and easy to adjust parameters and to repeat steps for process testing. Custom tubing sets can be created to connect the skid to your preferred chromatography column and size. It is available in Rockwell PlantPAx® and Emerson DeltaV™ platforms.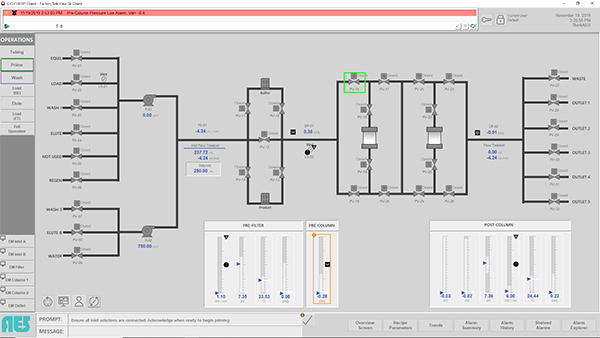 The control layer creates a modular system that easily integrates with an existing distributed control system (DCS) or as the start of a new site DCS. The AES Chromatography System is available in Rockwell PlantPAx® and Emerson DeltaV™ platforms.
All online adjustments, historization and system information is presented remotely through your networked computer or local HMI. Control hardware and software are 21 CFR Part 11, GMP/GLP and ISA-88 compliant to satisfy regulatory requirements. Additionally, all control software code is transparent and open source, giving you the freedom to make modifications as needed.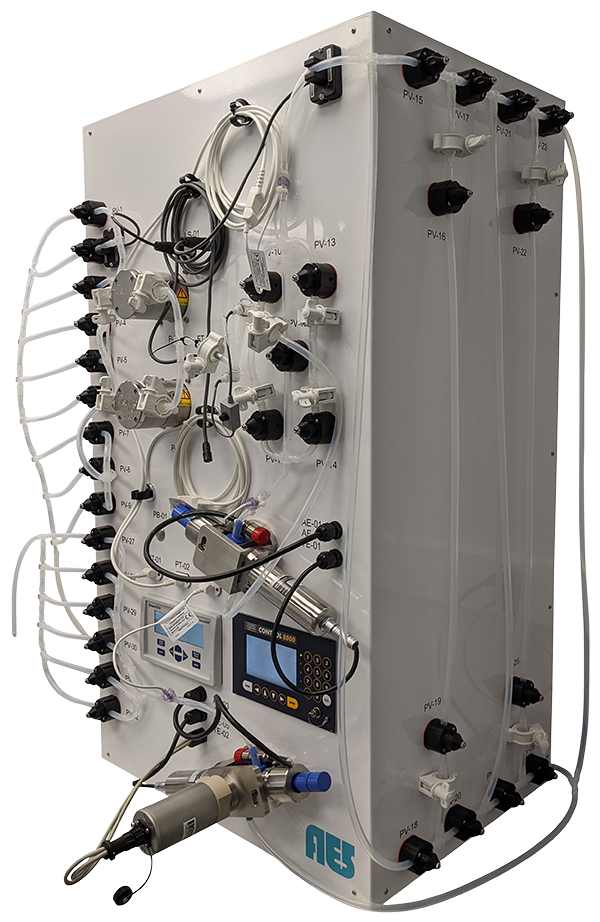 Skid Specifications (0.25″ Version)
Dimensions
45.72 H 26 W x 18 D, inches
Column
Bed Height Range: 10-60 cm Column Inner Diameter Range: 2.5 – 8 cm
Packed Column Volume Range: 20 – 1500mL
Flow Path Sizes
Choice of 1/8, 1/4, 1/2, 3/4, 1, and 1.5 inch sizes
Inlets
8 inlets standard; up to 12 inlets possible
Outlets
6 outlets standard: 1 waste and up to 5 fractions
Pressure
Up to 60 psig
| | |
| --- | --- |
| DCS | Rockwell PlantPAx® |
| Hardware protocol | Ethernet/IP |
| Interface | Windows®-based PC or HMI |
| Software standard | ISA-88.1 |
Process instrumentation specifications shown below are based on 1/4˝ tubing. Specifications for pumps, flow, and valves may vary based on tubing size.
Inlet Pumps
PSGDover Quattroflow
Model: QF150SU
Flow Range: 16 – 3000 mL/min (1-180 L/hr)
Connections: ¼" TC
Pump Head: QF15DISPP
MOC: Polypropylene, TPE, EPDM
Valves
Accro Model 600 Solenoid Pinch Valve
Model: 606CN-SDBN5-090-0375
Tubing Range: 0.250 – 0.375 inch OD (3.2 – 9.5mm)
Flow Sensors
Pendotech Single Use Ultrasonic
Model: FM-LFS-06SU
Measuring Range: 0 – 8000 mL/min
MOC: Polypropylene
Connections: ¼" Sanitary
Pressure Sensors
Pendotech Single Use Pressure Sensor
Model: PREPS-N-025
Measuring Range: -7 – 75 psi (-0.48 – 5.2 bar)
MOC: Polysulfone
Connections: ¼" Hosebarb
Air Sensor
Pendotech Air in Tube Detector
Model: AD-17
Tubing Range: 3/8" OD
pH
Optek pH Sensor PF12
Measuring Range: 2-12 pH
Conductivity
Optek Conductivity Sensor ACF60
Measuring Range: 0-150 mS/cm
Optical Density
Optek UV Sensor AF46
Wavelengths: 280/320 nm (Customizable)
Measuring Range: 0-2 CU
Path length: 2.5 mm
Specifications subject to change without notice.
Windows® is a registered trademark of Microsoft Corp. DeltaV™ is a trademark of Emerson Process Management. PlantPAx® is a registered trademark of Rockwell Automation. Levitronix® is a registered trademark of Levitronix LLC. Quattroflow is a trademark of ALMATEC Maschinenbau GmbH
For more information about the AES Single Use Chromatography System or to schedule a product demonstration