Microfluidizer® Production Scale Homogenizers
Processors for economical manufacturing of clinical and production batches.

The fully cGMP-compliant M-700 series includes many biopharma features that facilitate cGMP manufacturing, helping you bring drug products to market in the most efficient manner. We offer several designs with many options to fit your specific application needs.

AES is the Southern California authorized representative for Microfluidics. If you are located outside Southern California, complete our Quote Request form and we will forward your inquiry to the appropriate contact.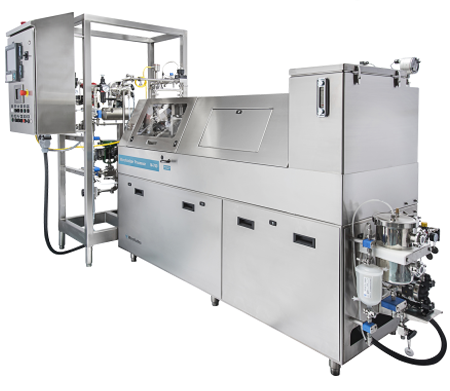 Production Scale M-700 Series
If you prefer an electrically-driven processor over a pneumatically-driven one, the M-110EH-30 was specifically designed for you. The unit reaches processing pressures as high as 2000 bar (30,000 psi) and is mounted on locking casters for mobility. A small volume model (M-110EH-30S) and explosion-proof model (M-110EH-30XP) are available. For additional product details and specifications, click here to visit the Microfluidics website.
Microfluidizer® is a registered trademark of Microfluidics International Corporation.
Microfluidics™ is a trademark of Microfluidics International Corporation.
Talk to an AES Technical Expert to discuss your applications and product needs